It's the season of gift-giving, and I love giving gifts. What can be a little stressful is the pressure of finding something that says "I was thinking of you personally when I picked this out" that's also really useful. To that end, I've compiled a list of items I'm considering for the readers and writers in my life (and to be honest, a few of these are going on my wish list too).
1) A laptop sleeve that looks like a book:
This version is for MacBooks, so make sure you have the right specs before you choose this item.
2) Page Nibs/Book Darts:
These are my favorite book marks – you can leave them in your book to mark quote locations, or to give yourself a clear, line-specific marker. They come in a lot of different styles, but these and these are both perfect.
3) Your writer's favorite notebooks:
A notebook is a very personal choice – while beautiful leather-bound journals are great to look at, you might want to spy on your writer to see what kind of paper, margins, and line spacing they prefer in order to get the most useful gift. You really can't have too many notebooks.
4) A fountain pen (and ink):
I received a fountain pen for Christmas last year, and it very quickly became the only pen I want to use. A fountain pen can seem intimidating at first, but there are different mechanisms and styles to fit different personalities. I like the kind where you put the cartridge right into the barrel of the pen – no muss, no fuss – and I like a fine nib, but you'll want to consider if your writer likes calligraphy, antique styling, function, and more. In spite of the width of the nib, I like the looks of this one on Amazon. The dream is the Parker Sonnet with gold trim. Don't forget to include compatible ink cartridges or cartridge system!
5) A personalized library embosser:
I first saw this on another list of gifts for book lovers, and it just looks awesome. This is one item that's going to make it on my own wish list, for sure.
6) A gift certificate to the Mythgard Institute:
The Mythgard Institute is both an educational institute and an online hub for active auditors. The courses cover modern fantasy and science fiction as well as Medieval and Renaissance literature, and can be taken in real time – with an option for live interaction with the professors – or downloaded to be done at your own leisure. Past course packs include classes on Arthurian literature, philology, Chaucer, Tolkien, Harry Potter, C.S. Lewis, and more. With this certificate, you can help offset the cost of an experience that's incredibly rewarding.
7) A book stand: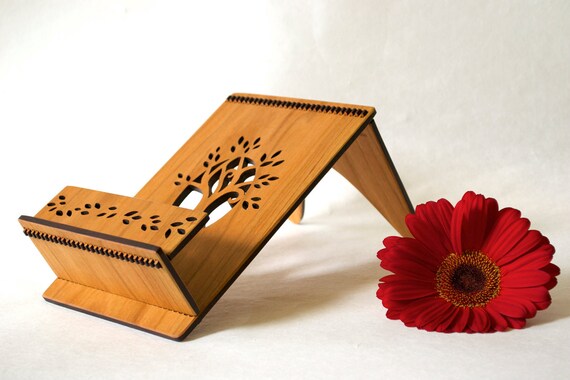 I got myself this cook book stand from ideasinwood to use in my office. I prop up my book and take notes, or I prop up my notes for typing. It's such a great resource. There are a lot of different kinds of book holders, so you can really match the style of your intended recipient.
And there you have it – seven great gifts for the writers and readers in your life.